SilverSingles is an online dating site and app aimed at the 50+ market. It is one of the most popular senior dating apps available in the U.S and matches up around 2000 couples per month.
If you are single, 50+, and want to join like-minded and mature individuals looking for genuine connections, SilverSingles is a promising option. But how do you get started, and how do you know if it's really the site for you?
In this review, I'll be taking a detailed look at the setup of SilverSingles, covering everything from the site features and member structure, to how easy it actually is to use. Read on for more information, and to find out if SilverSingles could be your key to finding a lasting relationship.
Member Structure
SilverSingles is a subscription-based online dating site, aimed at the 50+ age range. If you're thinking about trying it out, but aren't sure about who you might find, take a look at this information on member structure and data breakdown for the site:
Members at SilverSingles.com tend to be in the mature age range, and are looking for all kinds of relationships. Many are divorced or widowed and are hoping to find another chance in love. However, you'll also find users in a younger age range - e.g. younger than 45 - who are looking to date older women or men.
While the user base is certainly not as large as other online dating websites, it does host many quality singles who are looking for the same thing. SilverSingles is not as diverse as some of the other big online dating sites, but it does provide a good platform for the mature adult to find genuine relationships.
Sign-Up Process
Signing up with SilverSingles is simple and easy to do. To start with, all you need to enter is your basic contact details and nominated password, as well as your gender and the gender you are looking to match with.
Once you've entered these initial details, you can take the personality test. The SilverSingles personality test has been created with expert input from psychologists and relationship advisers and consists of over 100 questions. The questions ask about personality, traits, habits, outlook, and character. All questions offer multiple choice answers, where you indicate how strongly you agree or disagree with the statement.
You can then upload your profile photo and start building your profile. You will be asked to answer 7 questions, which you can write freely (rather than multiple choice). Your answers will be displayed on your dating profile.
The final stage of signing up is choosing your membership plan. If you just want to use SilverSingles as a free member, you can skip the billing page. Otherwise, select which length membership you want to sign up for, and start using the site!
Members & Making Contact
Once you're all set up, SilverSingles will start sending you compatible matches. This is the main way in which you'll be able to get in contact with others on the site.
Members who are a suggested match for you will appear in your search tab. This is based on the personality test that all members take, with those who are a perfect match displayed first. Users can adjust the filters in their search tab to show different potential matches. You can filter by age, interests, location, and height. There's also an option to show new members, and you can add people to your favorites list.
Premium members are then able to send messages to anyone who has appeared in their search. This cannot be done by free members, although sending a 'smile' to signal interest is available to all. If you're using the web version of SilverSingles, notifications are delivered via email. For app users, phone notifications can be switched on in settings to alert you when a message has been received.
Profile Quality
Before signing up with a dating site, it's important to know how good the profile you set up will be, as well as what other profiles will look like and what they will tell you. Here I'll look in more detail at the quality of the profiles on SilverSingles.
What Is Featured On Each Profile?
In terms of information provided, you'll find a substantial amount on each profile. This is because every member has to answer 7 questions when they sign up, and the answers are then displayed on their profile. These questions are based around things that are important to the individual, or things that make them happy - so it gives a good snapshot of what the member is really like and who they are as a person.
Profiles also feature the user's name, location, and occupation in the member preview. Alongside this, profiles feature pictures of the member (unless they have chosen not to upload one).
Who Can View The Contents Of A Profile?
All users can see the profile information (including name, location, occupation, and answers to the 7 questions) of any given user. This is the case even if you don't have a paid subscription. However, photos cannot be viewed by non-paying members.
Can You Make Changes To Your Own Profile?
Yes - there is an editing feature on SilverSingles, so you can regularly alter and update your own profile. This includes photos.
Are Fake Profiles A Problem With SilverSingles?
You shouldn't come across many fake profiles, as SilverSingles claims to have a tried and tested fraud detection system in place. However, you should always be wary of scam profiles - the biggest warning sign is potential matches asking for money or gifts.
Silver Singles App
Many people prefer to use apps for online dating. It makes it easier to view your matches on the go, and it's easier to upload a new photo or quickly edit details. Luckily, SilverSingles offers an app so you can pursue finding love whenever and wherever you are.
In terms of appearance and features, the app is very similar to the desktop version. You can access everything you have access to on your online account. That means if you have a free account, the same restrictions will be in place, while if you have a premium membership, you can view everything in the app.
The app is free to download on both Android and iOS. You simply need to sign in to your existing account (or set one up) to continue using SilverSingles on the go.
Depending on how you want to use it, the app is a helpful addition to the main SilverSingles website, or equally as good as a standalone product.
Features
Ease Of Use
One of the big positives of SilverSingles is that it is really easy to use. The layout of both the online version and the app is simple and clear, and the way that profiles are displayed means that you get all of the basic information you need in a straightforward way.
The whole platform is easy to navigate, and there are none of those excessive features and add-ons that can make online dating tiring and confusing.
Safety & Security
SilverSingles claim to have tried and tested security measures to keep you and your personal details safe and secure. They employ SSL Encryption as well as Fraud Detection Systems to help keep the site secure and protect your privacy.
All of your data is deleted once you leave the site, and you cannot reactivate a profile. This means your details are no longer available to view once you've left the site, so you've no need to worry.
Pricing
As I've already mentioned, there is a free account option with SilverSingles, but it's really limited in what you are able to do with it. If you do want to use SilverSingles to its full extent, with the ability to view photos and message other members, you'll need to become a premium member.
Premium membership is available in 3 different price categories. The monthly rate depends on how long you sign-up for, and the details are as follows:
The longer you sign-up for, the better monthly rate you get. These prices are competitive when compared to other online dating sites, and I like the fact that you have the option to pick a time frame that suits you.
Customer Service
SilverSingles offers an FAQ page to help you answer any questions you have both before and after sign-up. If you do find yourself with a problem that needs solving or an issue that needs resolving, you are able to contact the customer support staff by email at any point, though response times vary.
From Mondays to Fridays you can get in contact with Customer Care via the contact form, which is available in the Help pages on the website. Users report positive experiences with the Customer Care team at SilverSingles, indicating quick responses and courteous, professional attitudes.
Pros And Cons
Still not sure if SilverSingles is what you're looking for? Use this handy breakdown of the main advantages and disadvantages to help guide you.
Pros
Silver Singles vs eHarmony
One of the biggest competitors of SilverSingles is eHarmony. eHarmony has become somewhat of an online dating giant since it was founded in 2000, and boasts amazing success rates. Let's see how they measure up.
| | | |
| --- | --- | --- |
| | Uses A Personality Test To Find Compatible Matches | eHarmony Test Is Much More Meticulous And Has Been Carefully Developed Over The Last Two Decades To Ensure High Success Rates |
| | Much Newer Than eHarmony, So Doesn't Have The Evidence Of Success To Back It Up | Over 2 Million Have Found Love. According to eHarmony, every 14 minutes someone finds love on their site |
| | Has A Much Smaller User Base | Boasts Over 66 Million Members Worldwide. |
| | Able To Access Limited Information | Able To Access Much More information With The Free Account |
| Cell | | |
Most of the members on eHarmony are looking for a serious relationship, and don't want to waste their time with flings or casual hook-ups. While I like many of the features of SilverSingles, I think that eHarmony can offer the over 50's a better service when it comes to finding love. For finding serious relationships, eHarmony is a cut above the rest.
Final Verdict
SilverSingles is a strong online dating platform with lots of great features, and I love that it's dedicated to helping those in the 50+ age range find love. However, eHarmony also enables filtering by age. I think that it's far larger user base and strength of its compatibility test give eHarmony an edge over SilverSingles.
If you're a senior adult looking for love through online dating, I'd recommend giving eHarmony a go. Join the dating site today to start looking for love!
FAQs
Can those under 50 years old still join SilverSingles?
Yes. While the site is designed predominantly for the 50-plus age bracket, it's possible to sign up if you are younger than this. Around 9% of SilverSingles users are below 50 years of age.
Is SilverSingles a free dating site?
Basic membership with Silver Singles is free. This gives you limited access to profiles and features, and you can't message other members. If you want unlimited access and unrestricted communication with other SilverSingles members, you'll need to pay for the premium membership plan.
How many people use SilverSingles online dating service?
SilverSingles is a relatively large online dating community. Over 800,000 people use SilverSingles every month.
How did SilverSingles design the personality questionnaire?
The SilverSingles personality test is designed around the concept of the Five Factor Model of personality traits. Specially created with the advice and input of relationship experts and psychologists, the tests are analyzed and matched up with other members based on compatibility.
Do you have to take the personality test?
Yes. To be able to complete your registration with the site, you do need to complete the personality test. Other SilverSingles reviews have pointed out that if you feel that you have been misrepresented by the test, you can contact customer care to re-do it.
How does the matching algorithm on SilverSingles work?
SilverSingles' matching algorithm uses the results of members' personality tests to match them up based on compatibility. The test has been specifically designed to match individuals based on their answers to the questions.
How many potential matches can I expect from SilverSingles on a daily basis?
Once you have set up your profile and taken the personality test, SilverSingles will start suggesting compatible matches. As a rough guide, you will receive between 3 and 7 potential matches every day. Other Silver Singles reviews have suggested the actual number tends to be at the low end of this range.
Is it possible to see what a person looks like if I get a potential match from a SilverSingles member with no photo?
If you get a potential match, but they haven't uploaded a photo to their profile, you can request one. Simply visit their profile and click the 'Ask for Photo' button. You will then receive a notification if and when they add a profile picture.
Does SilverSingles offer any security features?
SilverSingles has fraud detection systems, along with clear guidelines designed to help you determine whether a potential match is legitimate. The website suggests that their customer care team vet all new profiles to try and ensure that only authentic ones are approved.
Do background checks and profile validation take place for SilverSingles members?
On the SilverSingles website, it states that every profile is verified and checked by the Customer Care team. However, it should be noted that some SilverSingles reviews have reported only receiving a standard email verification to begin using their profile.
How can I tell if a potential match on SilverSingles is from a scam or fake account?
According to the SilverSingles website, all user profiles are reviewed and verified by the Customer Care team. This helps to ensure that members are being open and honest about their identity. Even so, some users do still manage to create a profile in order to scam other members. If someone is asking for money, odds are it's a scam. Never transfer money to members on SilverSingles - or any other online dating platform.
How long is my personal information stored on the SilverSingles website?
SilverSingles stores your data for as long as you have an active membership. If you decide to delete your account or cancel your membership, all your photos and profile details will be removed from the website. Accounts cannot be reactivated, so if you want to return to SilverSingles, you'll need to create a new account.
Can I deactivate my account temporarily?
There is no option to temporarily deactivate your SilverSingles account. You must permanently delete it if you don't want to use it.
Will my SilverSingles account be active even if I don't use it?
Your account cannot be deactivated, so unless you have canceled your subscription or deleted your account, it will remain active.
Does SilverSingles offer refunds for cancelation?
SilverSingles subscribers may be entitled to a refund if they have made a purchase error. You can contact customer care through the website to find out if you can claim a refund.
Rating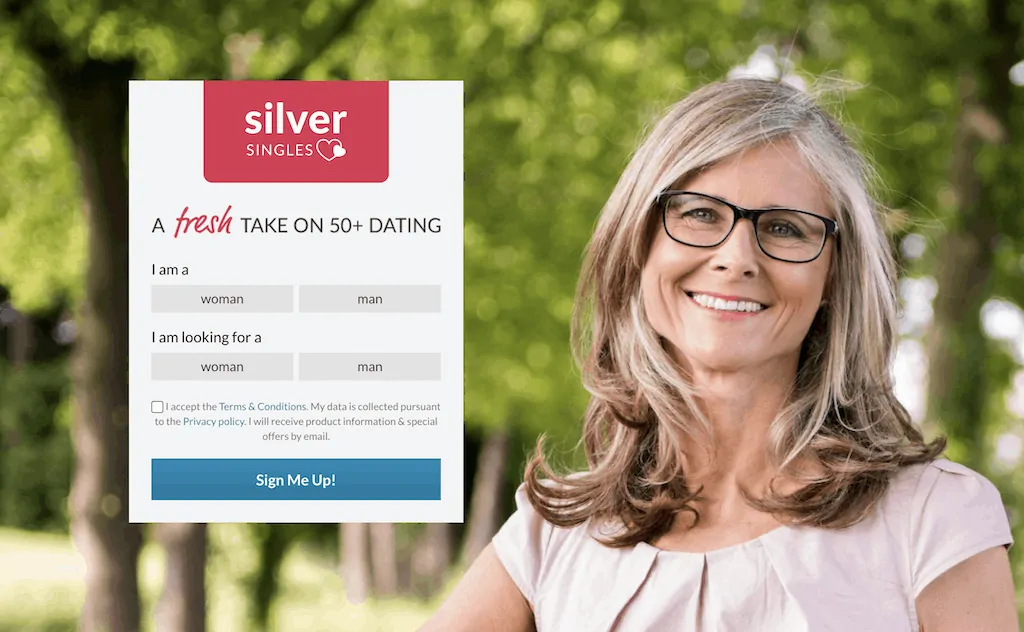 A good option for people over 50
Product Brand: SilverSingles.com
Product In-Stock: https://schema.org/InStock